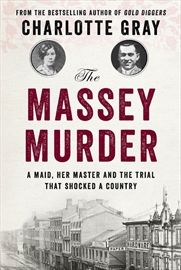 The Massey Murder: A Maid, Her Master and the Trial that Shocked a Country by Charlotte Gray (HarperCollins, 2013) 308 pages
Few murders galvanized Torontonians in the last century like the murder of Charles Albert Massey, grandson of the industrialist and philanthropist Hart Massey, by his eighteen year old maid Carrie Davies. Here indeed was a clear and disturbing demarcation of the only two perceived classes that existed in Canada at the time: "the Masseys and the masses" quipped B.K. Sandwell, Saturday Night editor.
Charlotte Gray

, a respected historian of Canadian figures, attempts to link the historical climate - specifically the turmoil of World War I in 1915 - and the murder of C.A. Massey. I'm not sure if she succeeds here even though the historical data

collected

about wartime Toronto is fascinating.
Carrie Davies
Carrie shot her employer on the steps of his Walmer Rd. home with his own gun because Massey had, in her words "ruined her" (more on that anon). She had been instructed on its use by the man's own unsuspecting son. Carrie was an unsophisticated British immigrant from an impoverished family residing in a gritty English railway town. She financially supported her widowed mother and three younger siblings with wages sent back to England. She had been forced into domestic service at thirteen due to the family's financial circumstances and her mother's poor health and had moved to Toronto to join her married sister to search for work.
Charles Albert Massey (known more commonly as "Bert") was the son of Charles Albert Massey Sr., the once favourite son of Hart Massey. With the untimely demise of Charles Albert Sr. at an early age and Hart Massey's unsuccessful attempts to have Bert and his younger sister Bessie live with their grandparents in their Jarvis St. mansion, Hart Massey turned against his daughter-in-law Jessie Massey, wife of Charles Albert Sr., and her children once she re-married.
Euclid Hall, the one time home of Hart Massey,
Charles Albert Massey's grandfather
The wealthier Masseys, such as Hart Massey and his unmarried daughter Lillian Massey, lived at Euclid Hall on Jarvis Street (shown above).

I have been fascinated with this house and its former residents for some time and have written about it

here

.
Charles Albert's own more successful older brother Arthur Massey lived at the more upscale 165 Admiral Rd. in the Annex but Charles Albert, a modestly successful automobile salesman for York Motors

, lived at 169 Walmer Rd.

(shown below).
169 Walmer Rd, the scene of the murder
Gray paints a vivid and lurid picture of early 20th c. Toronto - a city exploding with newly arrived immigrants and customs largely distrusted by the Anglo majority (85% of whom claimed British ancestry) and particularly concentrated in "The Ward" (also knonw as St John's Ward) - a neighbourhood bordered by College, Yonge, Queen and University streets and described as "notorious" with overcrowded rooming houses, rife with diseases such as tuberculosis and typhoid as well as crime ...
The depictions of the two principals involved in the murder were extreme and sharply drawn in the newspapers who took opposing views of the crime.
Charles Albert was portrayed by Davies' lawyer and a portion of the media as a slightly debauched seducer of the virginal Carrie who, even though she claimed had been suggestively approached by Massey and offered a ring as a gift the day before, waited a day and a half to stop his expected advances on the steps of his own home. Carrie was depicted as a virtuous, naive maid in conflict with a victimizing, lecherous employer making the most of his American wife Rhoda's absence from home.
By other sources, Carrie's reputation - there were allegations that she was mad or ill with epilepsy - was pitted against that of a scion of the Massey legacy. She was initially portrayed as a mentally unstable "foreigner" given to unexplained fits who over-reacted to a alleged advance by her unsuspecting and kindly master of good breeding and pedigree.
The trial and the acquittal of Carrie Davies marked a remarkable shift in societal attitudes towards the affluent

Masseys

and the Anglo upper crust who ruled both the judicial system and politics. And perhaps the war did

have a hand in the demystification of the upper classes as many young men of all classes and ranks met the same fate during WWI - death, disfigurement, loss of employment due to crippling wounds. Few families could claim that they were untouched by the war nor had contributed to the war effort.
Carrie's vindication represented a dramatic shift within Toronto society. It was not a given that an affluent (or in this case semi-affluent) citizen necessarily would triumph in the criminal justice system or in public opinion.
Carrie fades from the public memory after the trial and eventually she marries and settles on a farm north of Toronto and appeared to live a hard scrabble existence there. So traumatized by the defining event of her youth, she never spoke of it to her daughter Margaret Grainger who only learned of her history from the resourceful

Toronto Star

reporter Frank Jones who dug up the historical record in the 1980s and wrote his own book on the subject Master and Maid: The Charles Massey Murder.
Still living when Gray finished her own account, daughter Margaret, then in her 80s, was too unnerved to speak of it to Gray. Some wounds are too raw, even a century later, the authour notes.