Timothy Spall as Turner
Mr. Turner (U.K., 2014) directed by Mike Leigh, 149 minutes, VISA Screening Room, Elgin Theatre, 5.45p
Timothy Spall won the Best Actor prize at Cannes for his performance as the painter J.M.W. Turner, the British landscape painter. Turner is widely seen as a precursor to the French Impressionists. However, watching this film was akin to watching the paint dry on one of his landscapes.
Spall portrays him as a grunting, anti-social gargoyle who abandons wife and daughters to paint, diddles the maid but paints beautiful, ethereal mostly marine landscapes. The performance has been lauded but I found it profoundly uncomfortable watching his obnoxious behavior under the guise of being an artist first - file it under portrayals of the petty tyranny of a minor genius of the form.
Leigh's challenges in trying to document Turner's life is formidable - as is often the case with an artist. The film is too long and often meandering to my mind. It's difficult to document the actual physical production of art - even visual art - so we must rely on the vicissitudes of his life to enliven the narrative which are unpleasant to watch and to justify.
Director Mike Leigh at the screening
Turner is described as "single-minded in his focus on his art and career" in the TIFF synopsis which, I think, is a euphemism for being a callous husband and father (he routinely
denied having any children), an exploiter of his maid servant Hannah (
Dorothy Atkinson)
and a childish, selfish boor with his new mistress Mrs. Booth (Marion Bailey). Both servant and family deferred to his talent - including an elderly father who mixed his paints and bought his supplies.
Leigh appears to have shot the film in the very locations where Turner painted and they are admittedly uniformly beautiful, the colours of the scenery is breathtaking, but beauty doesn't suffice here.
Leigh tries to lighten the mood with depictions of artistic scuffles at the Royal Academy, founded in 1768 and considerd the arbiter of taste in the Western canon, and through comic turns by an actor portraying John Ruskin but these scenes feel tacked on and out of place.
The joke of it that the husband ordered the tickets for me as I love Turner's work and he thought I would enjoy it. My husband, I adore you for it, but this, I do not.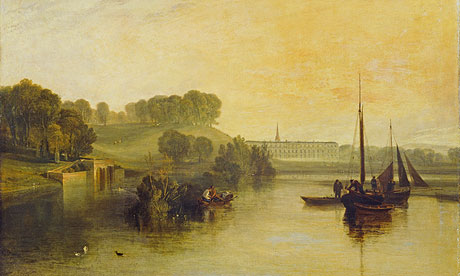 Turner's
Dewy Morning,
1810