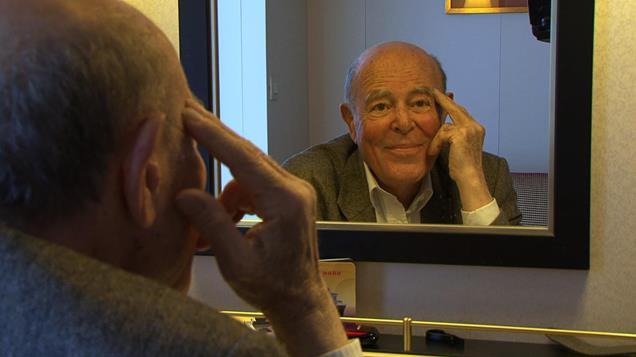 Ain't Misbehavin' (France, 2013) directed by Marcel Ophuls, TIFF Bell Lightbox 3, 12.30p
Before the film starts and Marcel Ophuls is introduced to the audience, we know we are in the presence of a rascal ... a highly intelligent, charismatic rascal with an impeccable lineage. An accomplished filmmaker in his own right and the son of Max Ophuls, Marcel Ophuls, now 85, has produced a number of outstanding documentaries before this one - the most memorable being The Sorrow and the Pity, a four hour opus originally slated for French TV and first brought to my attention (and many people of my generation) by Woody Allen in Annie Hall.
Exile and escape from Germany during the war after an idyllic childhood ... forming friendships or rubbing shoulders with filmmakers Francois Truffaut (he asks Truffaut's wife if Truffaut slept with Ophuls' wife Regine, she thinks not), Jacques Rivette, Preston Sturges (a selfish egoist), Costas Gravas, Michelangelo Antonioni (what a brave man he is to bore people so), documentarian Frederick Wiseman (a lifelong friend), Volker Schlondorff (a good friend) ... taking advice from the German playwright Bertolt Brecht (he hated Germans) ... mingling with actresses Jeanne Moreau (a good friend), clubbing with Dietrich in a "dyke bar" (tempting, but too "old" to sleep with he decides) ... a roll call of film talent and royalty.
Ophuls at the Q&A
My favourite line when asked about younger German directors he has known: "I ... don't ... like ... Fassbinder." Worth the price of admission if only for the anecdotes and snippets of classic movies Ophuls loves.
Ophuls tells not only his story but the story of his father Max Ophuls' life and filmography interweaving his own, his father's films and film favourites. Other films by the younger Ophuls explored the life of the Nazi Klaus Barbie, Northern Ireland's "Troubles", Germany's reunification, and, Yugoslavia's disintegration.
But it is not all accolades and fond anecdotes. Ophuls hints at domestic discord and possible violence, casually mentions his father's philandering,

the resistance of the French to the airing of The Sorrow of the Pity where he maintains that in the 1970s the French wanted to be painted all as resistors, none of whom collaborated during the war.
Lively, entertaining, intelligent, seductive, sometimes immodest but delightfully so ... He says he is done with documentaries. I hope that's not so. Bravo sir.