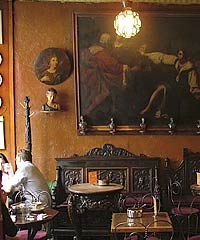 Caffe Reggio
Each man reads his own meaning into New York. ~

Meyer Berger
When we were young, I read an article that said that Al Pacino hung out at the
Caffe Reggio
(119 Macdougal St.) near Washington Square. So we went there and had a coffee or a cappuccino ... waiting for Pacino. Well, we never saw him but we did see the actress
Ruth Buzzi
(yes, she of ancient
Laugh-In
fame) walk by ... small compensation I fear.
The caffe is dark and overstuffed with dark Renaissance(ish) looking paintings, dark wood and fixtures and a giant, unused, very beautiful espresso machine in the corner.
On the last day we were in NYC we went there again for breakfast. I am old, my friend, I am old, I hate rude behavior in waiters. I really resent it now. It marred a nice breakfast. I had something very tasty called the Negrino (lightly cooked eggs on a strong cheese, perhaps Asiago, and sour dough bread). R had a croissant and an Americano (apparently quite good).
My darling husband explained the origin of the
cafe Americano
that I was not aware of ...
an Americano
. When the American GIs were in Italy during WWII they were unable to drink the espressos that were made for them so the Italians started adding water to the coffee ... hence
After we sat in
Washington Square
Park and R took photos. Did you know that there were hawks in the park? And it's quite beautiful, relatively clean, swarming with people of all sizes, ages, shapes and colours - reading, walking, playing chess, jogging. My research tells me that
Henry James'
maternal grandmother's house was once in the formerly tony neighborhood of Washington Square and that he was born at 27 Washington Place, a few blocks away.
I guess I jinxed us when I said to R and J that our timing for departure was quite good. We were able to pick J up on Long Island and catch the shuttle to the airport with a hour and a half to spare before our flight at 7.50p but we sat cooling (or heating) our heels for an hour and half after our flight was supposed to leave. No explanation, no announcement, in the overheated airport.
The only highlight of a dispiriting evening was the appearance of the actress
Milla Jovovich
of
Resident Evil
fame on our flight, flying alone and very unobtrusively.
We didn't arrive home until 11.30p. Satiated, exhausted and happy.
Washington Square