Oh ... m

y ...
Skyfall (
U.K.

/

U.S, 2012)
directed by Sam Mendes,
143 minutes
Nominated for Five Oscars
I was never enamored of the James Bond franchise ... until Daniel Craig came along. Remember all the whining amongst the Bond fanboys about Craig's unsuitability as the new Bond a few years ago? Craig was deemed not handsome enough, not suave enough, with no cinematic legacy as a action hero. Who could doubt his worthiness now as the successor to the Bond dynasty in all his
haggard handsomeness
?
An ex MI6 agent
Silva (Javier Bardem)
has an agenda: the extermination of M
(Judi Dench) for her perceived mistreatment of him while he served. In retaliation, Silva has been publicly releasing five names of MI6 agents,
each week

, who are being promptly assassinated by their enemies.
Bardem

, as Bond's latest nemesis, can do no wrong. He always seems to inhabit the appropriately creepy physical demeanor required when he plays a villain (as he did in No Country for Old Men with that bizarre Dutch boy haircut and limp). H
ere with his blonde hair and eyebrows

and

effete mannerisms, he pointedly makes us shudder.
From the explosive beginning to the near catastrophic feel of the ending - and what an ending it is marking the death of a significant character in the series - it's an exhilarating ride. It begins with two gorgeous

,

suit-clad rivals, one being Bond, the other the Bond villain Patrice, fighting it out to the death on the top of a speeding train in Istanbul ... to the entire submergence of a subway train crashing into a tunnel below the system while Bond chases Silva ... to Silva stalking M after his helicopter has spectacularly crashed into Bond's ancestral home Skyfall in Scotland against an apocalyptic background of f

lames, explosions

and horror.
Director Sam Mendes' directorial eye is stylish and gorgeously evident - our first glimpse of the new Bond girl
Sévérine (
Bérénice Marlohe) has her juxtaposed beside an over-sized print of

what appears to be

Modigliani's mistress
Jeanne Hebuterne. In Macau, Bond passes through a sea of

illuminated

red and gold Chinese dragons and lit candles against a blackened sky

to reach

a floating casino. Then there is the enormous Buddha strewn ruins
on an abandoned island near Macau

that Silva, Bond's enemy, inhabits.

It concludes with t

he now forlorn and largely abandoned Scottish mansion,
that Bond was raised in,
with it

s

hints of the former grandeur of the Bon

d

family.
The 21st c. hints of Bond's vulnerability only enhance the character

. O

ther MI6 agents imply

that

he is too old, that it's a young man's game and he shoul

d

opt out. He fails to pass the test that would reinstate him as an agent - information that is concealed from him by M. His shaky trigger finger can no longer, it appears, hit the target accurately. And the sexism seems to be kept down to a minimum with fewer scenes of Bond seducing some evil temptress. It seems more concerned with the prickly emotional bond between M and 007.
There is a kind of spiritual truth in seeing the fiendish Silva stalking M (Bond's erstwhile mother) and Kincade

(Albert Finney)

, the gamekeeper who helped raise the orphaned

boy

(Bond's erstwhile father) on the decrepit burial grounds on which Bond's biological parents - Adam and Monique Bond -

ar

e buried at Skyfall.
Yes, the franchise manifests an obsession with a boy's toys and a boy

's dreams

... fast cars; beautiful, often exotically beautiful, women; spectacular explosions and a plethora of guns and other weapons; exciting foreign locales

. B

ut what of it? Don't women have their silly fantasies too?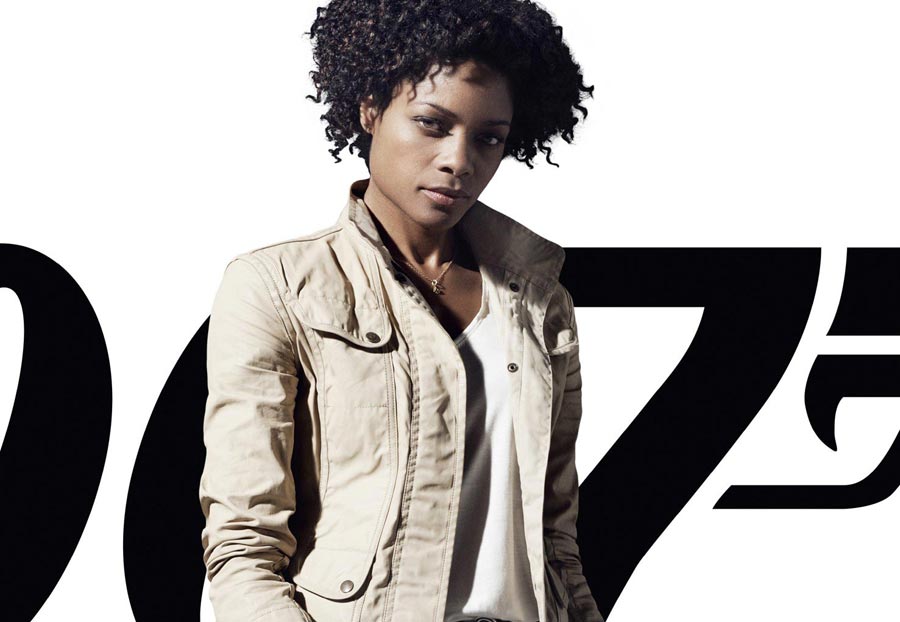 The new Moneypenny