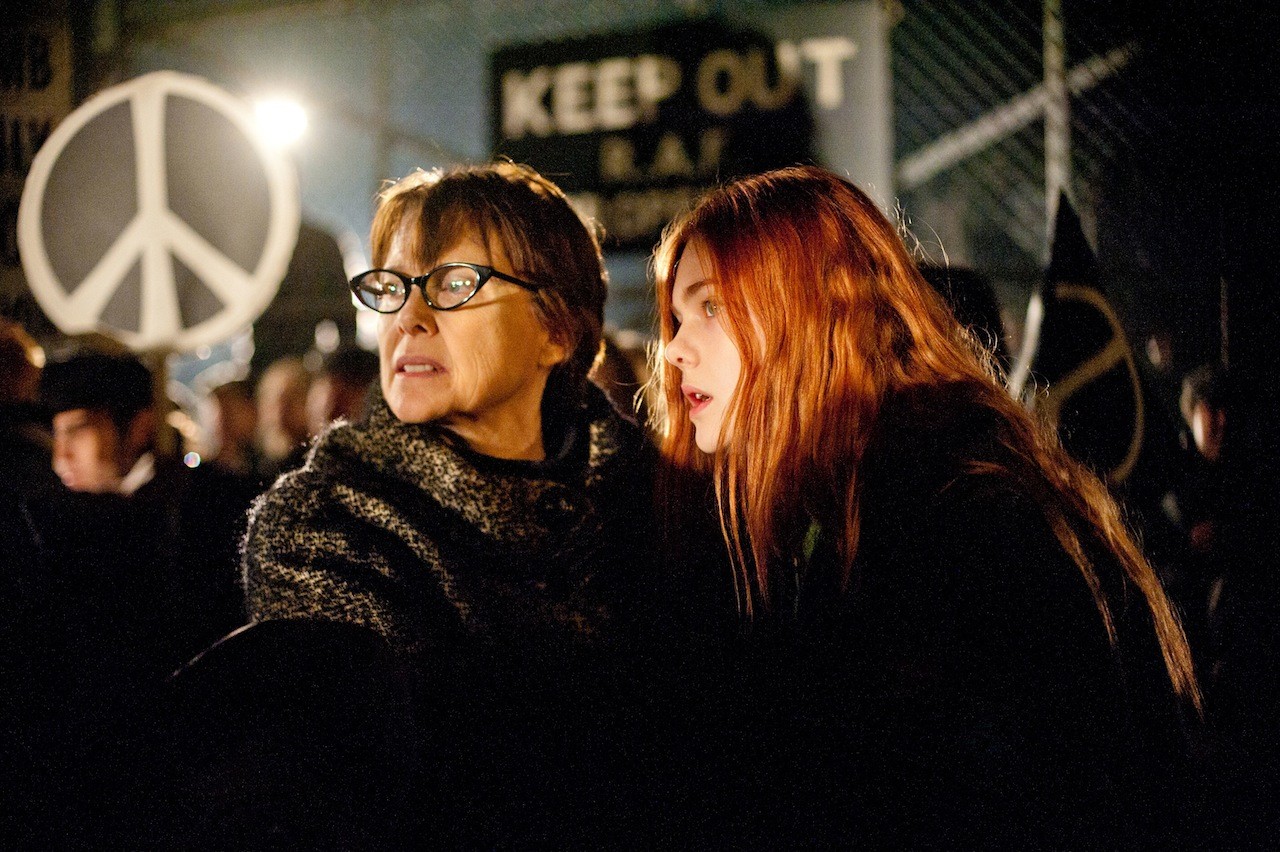 Annette Benning (Bella) and Elle Fanning
(Ginger)
Sunday, September 9th, 12p, Cineplex Yonge & Dundas 6

Day 3 for me and my pal C (day 4 for the festival). No rain today … a gorgeous September day!
Ginger and Rosa is a visually beautiful film tackling difficult coming of age issues. Set in the early 1960s of pre-Swinging England, Ginger (Elle Fanning) is the daughter of the charismatic pacifist Roland (the dishy American actor Alessandro Nivola with a very convincing accent) who went to jail rather than serve in WWII, and, Natalie, a frustrated, lonely mother who was once an aspiring painter (Mad Men's Christina Hendricks).
The film opens like a delicious joy ride for the two girls Ginger and Rosa … experimenting with cigarettes, hitchhiking, boys, clothing, music, attitudes. The film editing captures the excitement of and joy of youth in gorgeous colours and exhilarating edits. They are inseparable. Ginger is a poet, passionate about politics and thoughts of the imminent destruction of the planet during the Cuban Missile Crisis. She is best friends with Rosa (Alice Englert, daughter of director Jane Campion we learn after the screening), fatherless, superstitiously Catholic and emotionally alienated from her own mother Anushka. We begin to see two opposite philosophical strains: a belief in social justice versus dogmatic belief in religion.
Ginger (whose birth name is "Africa" – a name chosen by her activist father) is ardently political and believes in "direct action", reads T.S. Eliot, seems uninterested in boys. Rosa believes in God's will and is nonchalantly unpolitical. She also seems more mature in terms of her interest in the opposite sex.
Potter spoke about Natalie representing her mother's generation (for whom this film is dedicated) as she stood for a lost generation of women after the war. Unschooled, untrained for anything but marriage and motherhood, Natalie is bitter and angry – she's lost control of Roland due to his infidelities; she's losing control of Ginger who becomes progressively more involved in the anti-bomb movement. Hendrick's beautiful face seems drained and fraught with worry throughout while the handsome Nivola oozes good cheer, charm and health.
Immediately we see that something is askew. Rosa is drawn to Roland who has an eye for pretty young things like his students – likely this is how he became enmeshed with Ginger's mother Natalie who was a teenager when they met.
When they are caught out at the end Roland delivers what I imagine he thinks is a noble speech about how he has never bowed to the prejudices and narrow-mindedness of other men and has always gone his own way … and we see how blind adherence to one's individual rights can be as destructive and warp one's vision of right and wrong as intensely as unswerving adherence to religion or politics.
Sally Potter was there for the Q&A as well as Alessandro Nivola and Annette Benning who has a small role as a sympathetic American activist involved in the anti-bomb movement. Potter was lovely and articulate, speaking movingly about her mother and defending her film against the comment by an audience member that the film was a melodrama. It's dramatic which is not the same. It's emotional, less cerebral than the dream-like Orlando (1992) say, but in no way a melodrama. I was surprised at the question, usually TIFF audiences are embarrassingly effusive. In this case, we should have been.