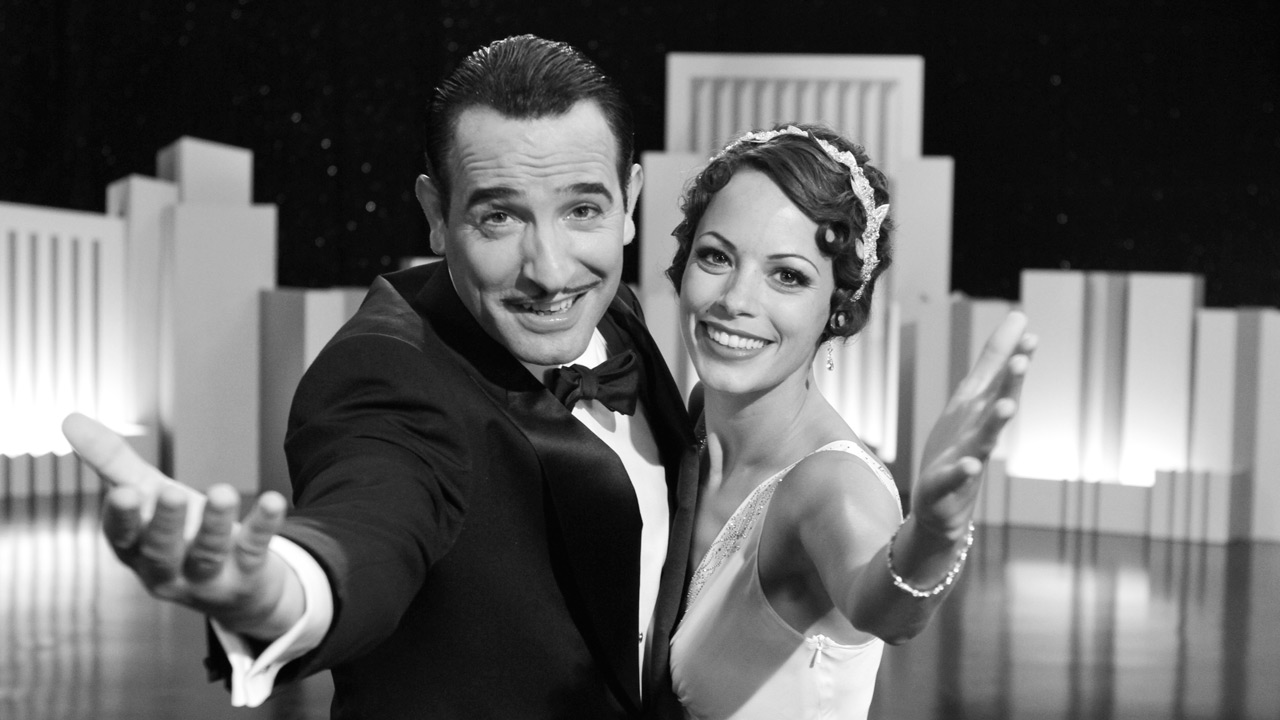 The Artist (France, 2011) directed by Michel Hazanavicius, 100 minutes
Nominated for Ten Oscars:
Best Actor In a Leading Role
Best Actress In a Supporting Role
Best Art Direction
Best Picture
Best Cinematography
Best Costume Design
Best Directing
Best Film Editing
Best Original Score
Best Original Screenplay
Just a man, his dog and his wounded pride ... This was my first film at TIFF in 2011. I saw this film with Chris Edwards, the bright light behind the blog
Silent Volume
. Chris is an enormous silent film aficionado and was just as excited as I was to see this film I think.
As every film lover now knows, this film was shot in black and white, without dialogue or sound except for a few pivotal scenes that employ sound in a highly effective and evocative manner.
George Valentin (
Jean Dujardin
) - the winner of the Best Actor Award at Cannes in 2011 and many other awards since then - evokes a debonair
Douglas Fairbanks Sr.
with his cheesy, over blown acting style and pencil thin mustache. George is a silent film matinee idol in 1927 who accidentally bumps into the aspiring actress Peppy Miller (
Bérénice Bejo
) at the premiere of his latest film. Although George is married to the sour face Doris (Penelope Ann Miller) sparks fly when Peppy appears as an extra in his next film.
Bejo is, I think, meant to summon up the spirit of
Clara Bow
: pretty, sensuous and playful on film and she is largely successful playing a sort of confident, high-spirited
flapper
from the 20s with a career that is soon to sky rocket while George's plummets.
In one key scene, we hear sound for the first time in the film and George hears it too. Everyone and every thing has a voice, a sound, except for him – he is speechless, unable to speak, or scream or cry. It's an apt metaphor for George losing his place in the Hollywood pantheon with the advent of the talkies.
When the talkies hit the screen in 1929, George bucks the trend and he finances his own silent feature that fails miserably whereas the new
It girl
Peppy's star rises higher and higher. You see where this is heading if you are a lover of classic film - it's shades of
A Star is Born
but, luckily, with a happier twist of fate at the end. It's a theme that has been explored since, at the very least, 1932 in
What Price Hollywood?
The power of silent film was much about choosing the right faces and Hazanavicius chooses wisely for almost all the roles. Dujardin, a French actor, has the right degree of self-congratulatory confidence and then intense melancholy when life goes awry after such good fortune - losing his wife, home, car, fans and even his personal effects. But I couldn't help thinking that Bérénice Bejo's face was all wrong for the era although my friend Chris disagreed - she's a pretty girl with enormous eyes but with a too generous mouth and an athletic boniness that work against the image for me.
A smallish point that always irks me: as usual in period films I become distracted by the too tidy appearance of the vintage cars and street scenes that minimize the power of the film for me.
George's pet (the dog
Uggie
, a "genius in the dog world" as the
director Michel Hazanavicius
put it in the Q&A after the film) adds humour and pathos to the film as do small roles by James Cromwell as George's faithful chauffeur and John Goodman as a crusty studio head.
As charming and as wildly successful as the film is I'm afraid it's a bit of one trick pony - how many silent films can be made in 2011 about the demise of the silent film industry?
The director Michel Hazanavicius, Jean Dujardin (with a French translator) and James Cromwell all appeared for the Q&A afterwards. They were gracious and funny. Pretty much everyone fares well before the adoring crowds at TIFF that are known for their enthusiasm and goodwill at screenings. It will be interesting to see how the film fares at the Oscars with its ten nominations.
Oscar bonus! Tweet
#SilentVolume
about his post-film encounter with
Jean Dujardin
at TIFF.